Girl names that start with D are the cutest baby girl, you know why because if you love the D letter itself, what's better to name your beautiful girl with the D letter. So here are the most beautiful English names list of baby girl names starting with D.
Hey, congratulations you are gifted with a baby girl which is the most beautiful creation of GOD. When you had a beautiful baby the first thing to do; Choose a good one for her.
List of baby girl names that start with d
Well, it's up to the happy parents to find names for their cute baby girl, but if you are looking for girl names that start with da, de or girl names that start with di, you can find it here.
Following are beautiful girl's names, mostly American girl names dolls but if you are looking for other names like;
Islamic or Muslim girl names, you can find them here…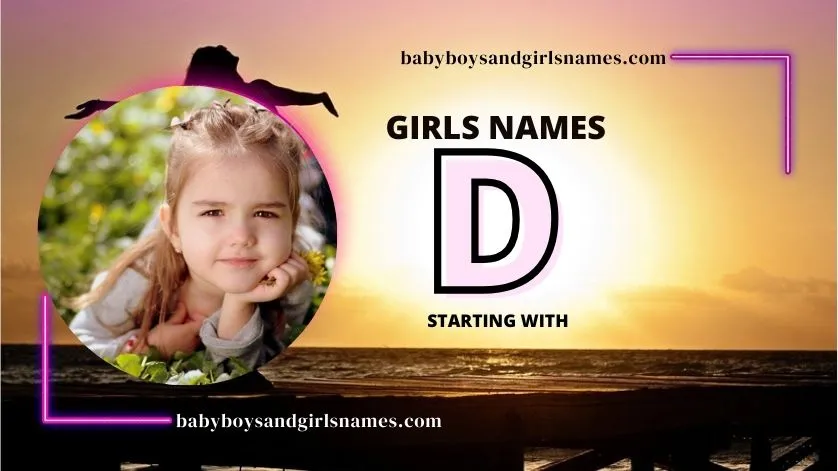 | Names | Names | Names |
| --- | --- | --- |
| Delilah | Desiree | Dominique |
| Daisy | Diamond | Dariana |
| Daniela | Dana | Darlene |
| Delaney | Demi | Dalila |
| Danielle | Danika | Delia |
| Daniella | Denise | Donna |
| Diana | Dorothy | Della |
| Dakota | Deborah | Dina |
| Daphne | Dixie | Darcy |
| Dahlia | Deana | Darla |
| Danna | Destinee | Desirae |
| Dylan | Devyn | Denisse |
| Dayana | Dalia | Deja |
| Danica | Dani | Dior |
| Dulce | Damaris | Devorah |
| Daleyza | Diya | Darby |
| Dallas | Dania | Davina |
| Destini | Daiana | Dayla |
| Deasia | Damiyah | Dayna |
| Dianna | Damya | Dia |
| Dasia | Delainey | Damiya |
| Diane | Danya | Deena |
| Dasha | Dezirae | Daelyn |
| Danae | Deisy | Dailyn |
| Daniyah | Daenerys | Demetria |
| Dream | Dara | Daniya |
| Dayanara | Draya | Deonna |
| Dafne | Devora | Dalis |
| Debora | Darianna | Dinah |
| Desire | Divya | Delani |
| Daria | Dakotah | Daelynn |
| Divine | Denali | Debra |
| Delylah | Danni | Devany |
| Denver | Dynasty | Daisha |
| Doris | Daliyah | Dayra |
| Dagny | Dallis | Daysha |
| Dora | Daylin | Dejah |
| Dawn | Daleysa | Dena |
| Diem | Dulcemaria | Darcia |
| Damani | Divina | Darlyn |
| Dylann | Devynn | Deniyah |
| Demiyah | Dasani | Dottie |
| Daira | Dyani | Dalylah |
| Daliah | Delany | Daysi |
| Debanhi | Darielle | Denim |
| Dolores | Dua | Daila |
| Damari | Drea | Damoni |
| Delina | Delphine | Danitza |
| Dempsey | Dayami | Deandra |
| Deysi | Dariyah | Dionna |
| Names | Names |
| --- | --- |
| Darya | Dolly |
| Dayani | Dorothea |
| Delaina | Daniah |
| Delyla | Dariela |
| Demya | Delana |
| Daizy | Domenica |
| Daanika | Dru |
| Deana | Daja |
| Deetya | Dakoda |
| Destinie | Damia |
| Dreya | Danasia |
| Danyelle | Danyla |
| Darci | Dareen |
| Dawsyn | Darling |
| Debbie | Daviana |
| Dezire | Delayza |
| Danah | Devine |
| Daya | Dilynn |
| Deema | Dominika |
| Desteny | Dorcas |
| Damaya | Deirdre |
| Danisha | Delaynie |
| Dannie | Devan |
| Daphnie | Deziyah |
| Dariya | Dhriti |
| Dayonna | Duaa |
| Dereon | Dyllan |
| Doreen | Damaria |
| Dymond | Dannica |
| Daisey | Deliah |
| Dajah | Demia |
| Danilynn | Deniz |
| Daphney | Dennise |
| Demiya | Devina |
| Denae | Deziree |
| Dannah | Dominica |
| Dariah | Dacey |
| Davionna | Dalani |
| Daziyah | Daleah |
| Deeksha | Daleiza |
| Deirdre | Demani |
| Darely | Dessa |
| Defne | Dezaray |
| Delayna | Dhanvi |
| Demaria | Dhanya |
| Dillyn | Dionne |
| Disha | Dalaney |
| Daleisa | Dalayza |
| Danely | Damiah |
| Davanee | Danyella |
| Names | Names |
| --- | --- |
| Dayleen | Derricka |
| Deklyn | Desaray |
| Delta | Desi |
| Deniya | Devanny |
| Destanee | Dhara |
| Destin | Dhruvi |
| Destynee | Diara |
| Devi | Dori |
| Dima | Dyamond |
| Dove | Dyana |
| Dahlila | Dalanie |
| Daianna | Dalayah |
| Dalina | Daly |
| Danyell | Damiana |
| Danylah | Damyah |
| Daphnee | Dannia |
| Davia | Daveah |
| Deaira | Daylee |
| Delayla | Dea |
| Demari | Donateilla |
| Derin | Daesha |
| Dianelys | Dahiana |
| Dilara | Dailee |
| Drue | Dalexa |
| Dynasti | Danelly |
| Daiya | Danicka |
| Danessa | Darah |
| Danilyn | Darianny |
| Darielys | Daylah |
| Davida | Deijah |
| Daytona | Denasia |
| Delailah | Denia |
| Delanee | Devlynn |
| Dezarae | Diamonique |
| Dezi | Dianely |
| Dhiya | Dmiyah |
| Dmya | Domonique |
| Dale | Dessie |
| Dallyce | Destanie |
| Danita | Devaeh |
| Dariany | Deziray |
| Daryn | Dhalia |
| Dashley | Dillan |
| Davi | Dilyn |
| Dawt | Dim |
| Daylen | Dresden |
| Deandrea | Dacia |
| Deeya | Dacie |
| Dejanae | Daina |
| Despina | Dalaysia |